Introduction
CNIRhurricane Tech Co., Ltd is proud to introduce the new revolutionary, precise and super reliable ultrasonic water meter, which is according to the ISO-4064 GBT778 standard.
It is I-UWM that be adapted by advanced transit-time measurement technology.
Features and Benefits
IP68 Protection
The UWM is sealed completely to be IP68 protection
Inside components are waterproof also. The circuit board, transducer and battery are IP68 to ensure long term operation through water in the inside of UWM.
Build-in Batch Controller & Time Accumulator
Set up the time controller by automatically or manually. So as to finish quantitative water supply or quantitative irrigation automatically.
Set up the time-staring flow accumulation at a set period time, to finish a gradient rate.
Heat Measurement
With the two way PT1000 temperature transducer, which can finish the heat measurement, especially for the refrigeration and air-condition industry.
High Accuracy Measurement
Double beam ultrasonic sensor for high accuracy.
Ultrasound Measurement, No Rotation, No Moving Parts
Long term measurement with high accuracy, stable and reliable operation.
Applicable to variety of water quality, including the gravel and weeds water quality

Low power consumption

wide measuring range

stable and reliable measurement

industrial production

Automation industry
Display and Operation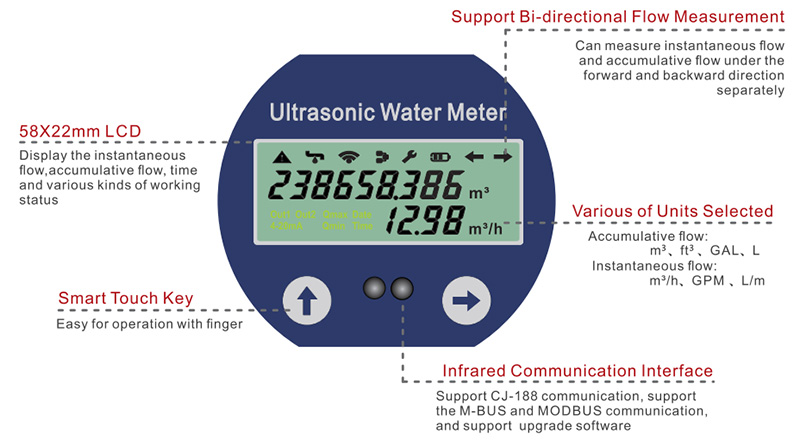 Communication and Signal Output

Easy wiring on the external waterproof junction box which makes it wire without open the cover of the water meter.
The communication interface and output as below:
– RS485
– MBUS
– DC5V
– Two-wired System 4-20mA output
– OCT1 (open collector output 1)
– OCT2 (open collector output 2)
– C1 (TTL level pulse output 1)
– C2 (TTL level pulse output 2)
PS: when ordering, you can choose any two of the above communication interface or output, lead to the external junction box.
Water Meter I-UWM Technical parameters:
| Item | Specification |
| --- | --- |
| Standard | ISO 4064-2005, GBT 778-2007 |
| Measurement Liquid | Water, Sewage, Seawater (other liquid need to be customized),Liquid should be full of the pipeline |
| Liquid Temperature | 0.1-30℃ |
| Working Environment | Temperature:-10-45℃; Humidity <=100%(RH) |
| Working Pressure | 1.6MPa (2.5Mpa optional) |
| The sensitivity of upstream | U3 |
| The sensitivity of downstream | D0 |
| Climatic and mechanical | Class C |
| Electromagnetic compatibility | Class E2 |
| Communication Interface | RS485/USART/Infrared |
| Output Signal | Two way OCT pulse output / TTL pulse output / One way 4-20mA output |
| Power Supply | Build-in Lithium Battery (3.6V 19AH) / DC8-36V |
| Protection Class | IP68, can work 2 meters under water |
| Digital Display | Multiple line 9 digital accumulative flow,4 digital display for instantaneous flow, varies of state prompt and units |
| Data Storage | EEPROM/FLASH, automatically record the accumulative flow of last 512days |
| Measurement Cycle | Measuring: 1times/second; verification: 4tims/second |
| Power Consumption | <=2.7AH/year, 6years battery lifetime |