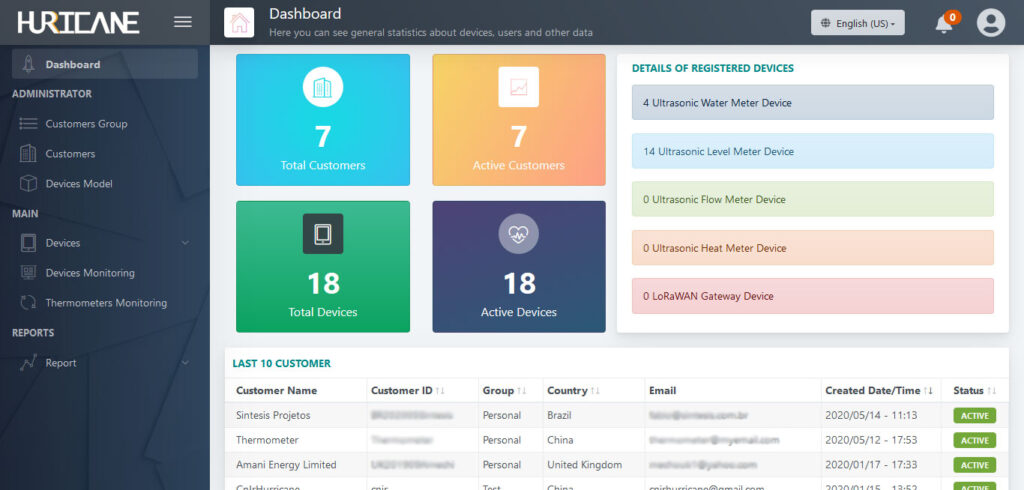 Hurricane Comprehensive Software is programmed and designed to communicate and manage all hardware produced by CNIRHurricane company.
this software already launched on our cloud so our customers can have access to the software with own smart phone or browser. After logging in, customers can easily introduce their devices and receive the information recorded by the device.
The company's devices can communicate directly or indirectly with the cloud and upload their recorded data to the cloud via the Internet to view reports by management.
There is also the ability to update and customize this software depending on the needs of customers. After assessing needs of customers, we can add their specific changes or features on the software and provide them with a distinct version.
CNIRHurricane software is currently available on the web, Android and iOS, so you can connect to the software and check device data wherever you have internet access.
Below you can see some of the features and images of the software. (These features may change over time or new features may be added in future versions)
Install and run on the physical servers, cloud platform or virtual servers of Windows or Linux
Connect to SQL Server or MySQL databases
Run UI, Web Service and Database on separate servers (if required)
Define and manage customers and different centers in an integrated manner
Connect to ultrasonic level meter and water meter devices and …
Connect to the device via internet (GPRS/3G/4G/5G)
Display real-time location of devices on the map
Display real-time device data on the software
Display notification, alarm or send text messages to the operator if software not receive device information
Display and reports from received data in the required time periods in the form of statistics and graphs
View status and general operation of devices
Multilingual capability (English, Persian, Chinese, …)
Add various features and reports based on customer and center needs