Above Installation
Introduction
The A-ULS are innovative ultrasonic liquid level sensor families that replace float, conductance and pressure sensors but "non-contact" with dirty, sticky and scaling media in small, medium and large capacity tanks.
Applied in chemical, water and wastewater applications, these general purpose non-contact sensors are available with single and multi-function capabilities including continuous level measurement, switching and control.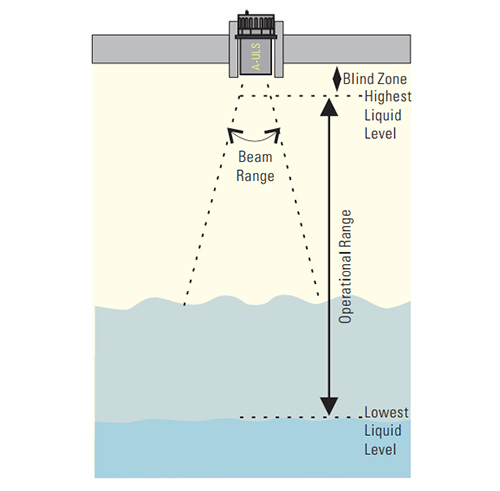 They are also widely used in water treatment applications for pump control and open channel flow measurement. The ultrasonic sensor enjoys wide popularity due to the powerful mix of low price and high functionality.
Features and Benefits
– Continuous level detection
– Narrow beam angle and short blind zone optimized for both large
and small tanks
– 4 cables for simple wiring connection
RED: Power +
Black: Power –
Blue: RS485+/ RS232+ /TTL
Green: RS485-/ RS232- /TTL
– polyvinylidene difluoride (PVDF) transducer and NEMA Type 6P polycarbonate enclosure for
corrosive liquids
– UV stable for outdoor use
– Automatic temperature compensation for accurate measurement
Ultrasonic Liquid Level A-ULS Technical parameters:
Model
A-ULS-20
A-ULS-30
A-ULS-50
A-ULS-80
A-ULS-A0
A-ULS-A5
Measure Range
0.2-2m
0.12-3m
0.15-5m
0.15-8m
0.35-10m
1-15m
Output
RS485 / RS232 / TTL / 4-20mA
Mounting
Thread M30*1.65mm
Beam Range
7° ± 2°
7° ± 2°
7° ± 2°
7° ± 2°
12° ± 2°
12° ± 2°
Ambient Temperature
-40° to 80°C
Process Temperature
-20° to 60°C
IP Protection
IP67
Case Material
PVDF/ABS
Cable Length
20cm
Compliance
CE, RoHS
OEM Service
Yes. Can be Customized
Low Power
Can be customized to power with battery and for IOT solution