Bottom Installation
Introduction
Ultrasonic Level Meter B-ULM Device measures liquid from the External Bottom of the Liquid Container, using "non-contact" technology. It offers simple installation and excellent accessibility.
The B-ULM measures the level of liquids (Water, Diesel, Petrol, LPG or other liquid materials) in container depending on software settings, no matter the liquid container is on moving or static, such as Vehicle Fuel Tanks, Fuel Tanks for Transportation, Industrial Tanks and Liquid Storage
Applications
– Tank levels
– Diesel fuel gauging
– Liquid assets inventory
– High or low level alarms
– Process batch monitoring
– Remote monitoring
– Input to telemetry systems
– Irrigation control
Features and Benefits
– Bottom mounted
– Easy to install and configure
– Safety: no broken and drilling on the container
– Measure range up to 5meters, others can be customized
– 9-36V DC power supply
– Standard analog 4-20mA current output (Optional)
– Serial data interfaces RS485 or RS232
– LoRaWan, NB-IOT, and Bluetooth wireless output (optional)
Technical parameters:
Model
B-ULM
Size
100x71x255mm
Power Supply Voltage
9-36 VDC (Default)
Max Load Current Of Outputs
10 mA
Max Current Consumption
80 mA
Checkpoint Of the Tank Thickness
<10 mm
Measurement Media
Water, Diesel, Gas, LPG, Other Liquids
Measurement Range
25-1000 (B-ULM-01)
45-2000 (B-ULM-02)
45-3000 (B-ULM-03)
50-5000 (B-ULM-05)
Output
RS232 default
RS485, 4-20mA/0-10V optional
Lorawan/NB-IOT wireless opt
Indicator (Red, Blue)
Red: Power, Blue: Signal
Accuracy
1%
IP Protection Of Transducer
IP68
IP Protection Of Transmitter
IP61
Working Temperature
-40 ~ +80 C
Storage Temperature
-45 ~ +85 C
Working Humidity
5 ~ 95%
Galvanic Isolation (1A)
Yes
Patent
Yes
Certificates
CE (LVD, EMC)
Guarantee
1 Year
Ultrasonic Level Meter B-ULM Components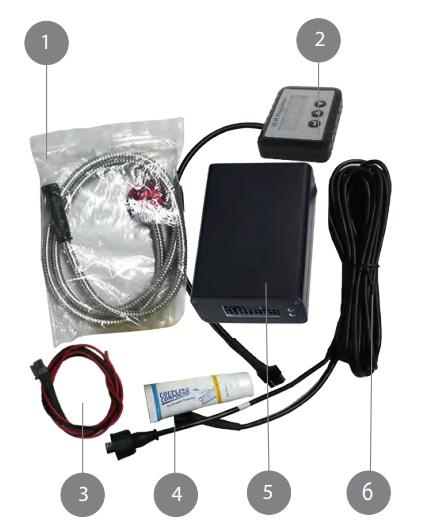 1. Ultrasonic Transducer with Cable 1M
2. LED Programmer (Optional, for installment normally)
3. Interface Power Cable 1M
4. Coupling Glue (important for installing & find best check-point)
5. Control Box (Data Processing Box)
6. Extension Cable 6M
Item 4 is used to avoid the retarding of sound transmission by air between the transducer & measuring tank. It is necessary for Ultrasonic Level Meter. However, it could be bought from local market because of the forbidden rules of import / export customs and right system.
Item 4 can be replaced by AB glue or epoxy resin adhesive, which is used on installation. It is very resistant to cracking and if anyone wants to intentionally remove transducer from tank body, it is corrupted and broken so you can see report on the software.