Ultrasonic Flow Meter UFM-X8 is an ultrasonic flow meter based on transit-time schematic design. Designed using the digital technology and low-voltage integrated circuit , it have broadband pulse transmission. While principally designed for full-pipe and clean liquid applications. The instrument is tolerant of liquids with small amounts of air bubbles or suspended solids found in most industrial environments. Integration design and high integration make flow meter simple and convenient to use. it can easy to check Daily , Monthly and Yearly totalized flow. Parallel operation of positive, negative and net flow totalizer.
Application
Widely used in chemicals, Irrigation, industrial process water, water supply, water treatment, boiler, etc.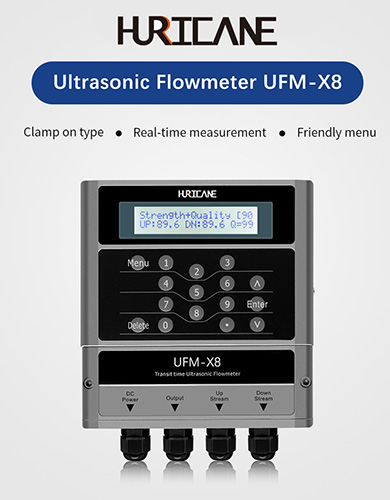 Transducer with 2 pin socket can be quickly connected to the cable plug.
The cables can also be extended at any time.

Ultrasonic Flow Meter UFM-X8 Specifications

Performance
– Accuracy: ±1%
– Repeatability: 0.2%
– Pipe size: 1 in to 200 in (25mm to 5000mm)
– Piper Material : PVC, Carbon Steel, Stainless Steel
– Flow range: 0 ~ ±12m/s (0 ft/s ~ ±40 ft/s)
– Fluid : Water, Fuel and etc
Function
– Analog output: 0/4~20mA (max load 750Ω)
– Pulse output: 0~9999Hz, OCT, (min. and max. frequency is adjustable)
– Relay output: SPST, max 1Hz, (1A@125VAC or 2A@30VDC)
– Communication: RS485
– Power supply: 24VDC, maximum 1A
– Cable Length : 10m (Can be customized)
– Keypad: 16 (4×4) key with tactile action
– Display: 40 character, 2 line (20×2) lattice alphanumeric, backlit LCD
– Transmitter Temperature: -40℃~ 60℃
– Transducer Temperature: -40℃~ 80℃ (standard)
– Humidity: Up to 95% RH, non-condensing
Physical
– Transmitter: Die-cast aluminum
– Transmitter Weight: approximately 2.7 lb (1.2kg)
– Transducer Weight: approximately 3.3 lb (1.5kg) (standard)