Introduction
Ultrasonic Flow Meter UFM-1510C Series is a state-of-the-art universal transit-time flow meter designed using FPGA chip and low-voltage broadband pulse transmission.
Comparing with other traditional flow meter or ultrasonic flow meter, it has distinctive features such as high precision, high reliability, high capability and low cost and other advantages:
TVT technology designed ,Less hardware components, low voltage broadband pulse transmission,low consumption power, Clear, user-friendly menu selections make flow meter simple and convenient to use.
Daily, monthly and yearly totalized flow Parallel operation of positive, negative and net flow totalizes with scale factor (span) and 7 digit display, while the output of totalize pulse and frequency output are transmitted via relay and open collector.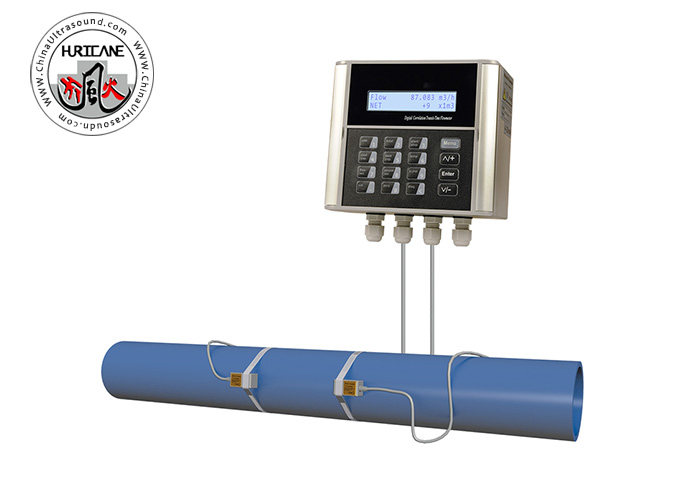 Applicable Pipe
– Carbon steel
– Stainless steel
– PVC
Applicable Industry
– Running water
– Sewage treatment
– Chemical material
– Crude oil
– Sea water desalinization
– Lubricating oil
– Industry Circulating Water
– Drink
– Chemical reagent adding and others
Application
– Water, sewage (with low particle content) and seawater
– Water supply and drainage water
– Power plants (nuclear power plant, thermal and hydro power plants), heat energy, boiler feed water and
– Energy management system
– Metallurgy and mining applications (cooling water and acid recovery, for example)
– Petroleum and chemicals
– Food, beverage and pharmaceutical
– Marine operation and maintenance
– Energy economy supervision and water conservation management
– Pulp and paper
– Pipeline leak detection
– Regular inspection, tracking and collection
– Energy measuring and balance
– Network monitoring systems and energy/flow computer management
Ultrasonic Flow Meter UFM-1510C Specification
Model
UFM-1510C
Flow range
±0.03ft/s ~ ±16ft/s (±0.01m/s ~ ±5m/s)
Accuracy
±1.0%(±1.6ft/s~±16ft/s) (±0.5m/s~±5m/s)
Pipe size
Clamp-on:1''~48''(25mm~1200mm)
Fluid
Water
Pipe material
Carbon steel,stainless steel,PVC
Outputs
OCT Pulse output:0~5000Hz
Analog output:4~20mA,max load 750Ω
Power supply
10~36VDC/1A
Communication interface
RS485 MODBUS
Keypad
16(4×4)key with tactile action
Display
20×2 lattice alphanumeric, back lit LCD
Temperature
Transmitter:14℉~122℉(-10℃~50℃)
Transducer:32℉~176℉(0℃~80℃)
Humidity
Up to 99% RH,non-condensing
Transmitter
PC/ABS,IP65
Transducer
Encapsulated design,IP68
Transducer cable
Standard cable length:30ft(9m)
Weight
Transmitter:approximately 0.7kg
Transmitter:approximately 0.4kg